The Fine Points
TECHNOLOGY: Advanced Radio Frequency (RF)
BENEFITS: Revitalization and firming of the skin
IDEAL FOR:
The Face – Cheeks • Jawline • Under chin • Neck • Eyes • Forehead • Mouth
The Body –  Stomach • Thighs • Upper arms • Décolletagé • Buttocks
PROCEDURE TIME: 1 to 2 hours depending on treatment area
SCHEDULE: 6 treatments. The first four treatments are ideally one week apart, with the fifth and sixth treatments two weeks apart
ANESTHETIC: None
PREPARATION: Adequate water consumption during the days leading up to your treatment.
RECOVERY: Adequate water consumption for several days after your treatment. You can return to your normal activities right away.
RESULTS: Benefits are progressive. You will typically see the accumulating effects after 3 or more treatments.
Loose skin on the face and body is one of the major concerns we hear from our clients.
EndyMed skin tightening will improve skin of any age. However, the sooner you act, the more effective your treatment will be. Tightening procedures can also help to prevent more looseness from occurring.
We use state-of-the-art technology and customized treatment plans to suit your individual needs.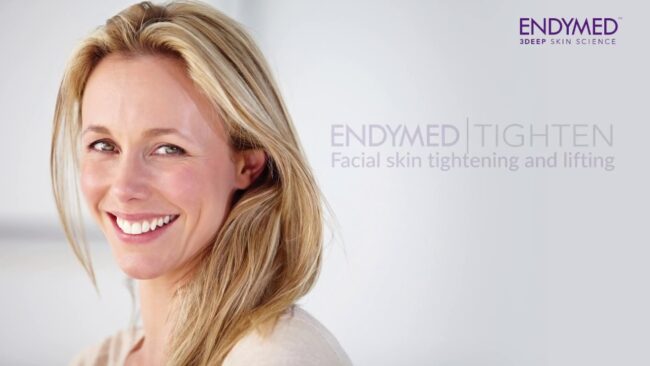 ENDYMED FACE & BODY SKIN TIGHTENING
Rebuild your youthful skin from the inside out
How it Works
We work with ENDYMED Advanced Radio Frequency Treatments (RF). The ENDYMED uses safe and clinically proven radio frequency.  It lifts, firms and smooths skin.
ENDYMED  delivers controlled focused RF energy deep into the skin. It slowly builds the level of heat required to stimulate the natural production of collagen. RF improves the underlying structures of your skin. It stimulates tightening and lifting without any pain.
Treatments are suitable for all skin types and colours. The procedure is non-invasive and there is no downtime for recovery.
What to Expect
Step 1. We will apply a warm ultrasound gel to the treatment area.
Step 2. We move the ENDYMED hand piece in a circular motion. This gradually heats the skin.
Step 3. Your technician will ensure that the adequate temperature for collagen production has been met.
If you feel the sensations becoming too warm, just let your technician know.  We can adjust the movement of the hand piece.
Many of our clients find the treatment is quite soothing. Some even fall asleep!
Your skin may appear slightly flushed after treatment. It will immediately look and feel more firm to the touch. This effect will subside after a few days, but with each consecutive treatment, the results will last for a longer period time.
The clinically proven ENDYMED TIGHTEN and SHAPE treatments will deliver natural, long-lasting results.
Book your free consultation to find out if the Endymed is the right choice for you.
Book Now
Pricing
Face & Neck
Single $333
Save with Package of 3 – $830

Face Only
Single $250
Save with Package of 3 – $625

Neck Only
Single $158
Save with Package of 3 – $395

Décolletagé (Cleavage)
Single $200
Save with Package of 3 – $500

Upper Arms (Both)
Single $300
Save with Package of 3 – $750

Stomach
Single $300
Save with Package of 3 – $750

Buttocks
Single $400
Save with Package of 3 – $1,000

Thighs (Front or Back)
Single $400
Save with Package of 3 – $1,000

Thighs (Front & Back)
Single $600
Save with Package of 3 – $1,500

Knees
Single $250
Save with Package of 3 – $625

Recommended Number of Treatments: